Adult Jokes & Sexy Funny Memes
By: Adult Memes
Genres: #Memes #Picture Book #Comedy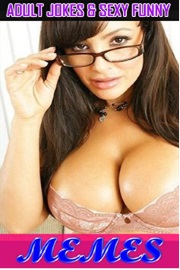 "THE FUNNIEST ADULT JOKES AND SEXY FUNNY MEMES IN THE WORLD."

V42: Hilarious & Offensive Jokes and Memes

With this MASSIVE collection of sexy and funny memes you can make everyone laugh! This ebook full of funny memes. You and your friends will laugh for hours at this funny meme book.
#Kinky_Literature, #Kinky_Books, #Erotic_Fiction, #Erotic_Literature, #Erotic, #Erotica, #Kink, #Kinky, #Fiction, #KinkyLit
Purchase Options
---

Amazon Available Formats:
Kindle
---
---
More Books By: Adult Memes