THE LANDLORD!
By: Gowan Bush
Genres: #Landlord/Landlady #Interracial #Debt Payment Sex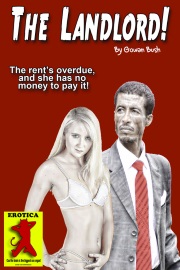 "I REALLY NEEDED THAT JOB, BERNIE. I'M SO BROKE, I'M ABOUT TO GET EVICTED FROM MY APARTMENT,' MILA SAID, HER EYES WELLING WITH TEARS."

Mila is a struggling actress in Hollywood and she's behind on her rent. When her sleazy landlord comes up with a payment plan, what choice does she have? It seems this hung black man is going to get his pound of flesh after all. (Interracial sex).



Purchase Options
---

Smashwords Available Formats:
epub, mobi, pdf, rtf, lrf, pdb, txt, html
---
More Books By: Gowan Bush